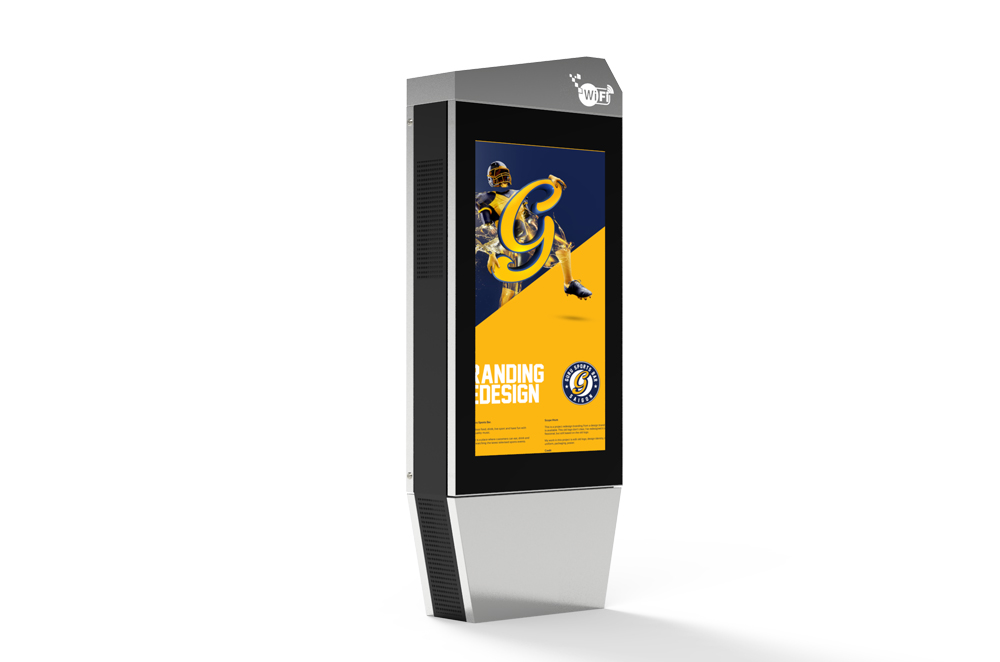 KDO 43 / 55 /65
Fully Outdoor High Brightness Digital Advertising Signage
3000 nits (Panel), 2500 nits (Outside the glass)

110℃ LCD

Android OS / Windows OS / TV Board

IP Rating: IP 55

Available Colors: Black(Ral 9005), Dark Gary (Ral 7043)
Features
Keewin Display Fully Outdoor High Brightness LCD Displays
Two Displays Back to Back More Ad Opportunities
Two 3000 nits high brightness displays were well designed and integrated together, whenever in a weather conditions, fully outdoor enclosure is always protect your contents, keep it on for 24/7, there is even more larger sized option available.
1 . Excellent visual quality : 3000 nits, high contrast , wide viewing angle
2 . Guaranteed performance: 5000 hours
3 . Outdoor grade : IP55 design , Exposure to direct sunlight, rain, snow and dust
Product Features
1 . Long lasting brightness
Thanks to the high-efficiency LED back light panel uses on KWO series products, 24 x 7 is easily to be achieved; besides, the monitor is also excellently viewable from even very large angle and strong sunlight, you can always feel the great contrast ratio and colour saturation that the screen brought you.

2 . Fully outdoor protection
KWO / KDO series products can be used totally outdoor, no matter how extreme the weather changes, the strong metal casing & tempered glass covered kiosks will always keep your information advertising.

3 . Temperature & humidity control
Embedded heater, fans & sensors are working together to keep the whole unit operates in well condition, continuously advertising in anywhere of the world.

4 . Automatic brightness control
The brightness is automatically adjusted according to various sunlight environments, night mode(lowest brightness) will be activated in the night, the highest brightness will be turned on during the noon with strong sunlight.
TECH SPECS
Outdoor Air Cooled kiosk
PANEL
43 / 55 / 65
LG / Samsung / AUO / SHARP
941 x 529 / 1210 x 680 / 1428 x 803
1920 x 1080
16:9
3000 (both sides)
4000:1
6
178° / 178°
led backlight source
50000
Panel Size (inch)
LCD Manufacturer
Active Display Area (mm)
Resolution (pixel)
Aspect Ratio
Brightness (nits)
Contrast Ratio
Grey to Grey Response Time (ms)
Viewing Angle (H / V)
Backlight Configuration
Operational Life Cycle-mtbf (hours)
Android System
Android 4.4.4
RK 3188
1G
8G
Yes
Yes
Yes
Yes
Update content wireless through the web
Yes
Automated on/off timing by day,week,hour.
8 Ω 5 W x 2
SYSTEM
CPU
DDR
NAND
WIFI
LAN
RS 232
USB
Remote Server
4G / 3G
Auto Standy
Speaker
Micro-Controller
Automatic Brightness
Auto Cooling
Auto Heating
Auto Dehumidification
III
30 mA, 0.1 S
Auto on / off by hour / day / week.
AC 200 V± 10%,50 / 60 HZ
450 / 800 / 1150 (without heater), 1050 / 1400 / 1750 (with heater)
Lightning Protection Grade
Leakage Protection
Timing switch
Input Voltage
Max Power Consumption (w)
Enclosure
IP55
Galvanized steel+zinc powder coating+fine grain powder triple coating.
5 years, fully outdoor. No color-fading, paint-shedding, rusting.
Tempered glass with AR coating.
Transmissivity > 93%, Reflectivity < 2%
730 x 1850 x 280 / 880 x 2250 x 280 / 1000 x 2300 x 280
100
TBD ( 43 ) / 290 ( 55 ) / TBD ( 65 )
IP Rating
Enclosure Material
Enclosure Lifetime
Glass Type
Glass Characteristics
Unit Dimension (mm)
Bezel Width (mm)
Weight (kg)
Environment
Exposure to direct sunlight, rain, snow and dust.
-40℃ ~ +50℃
5% ~ 98%
≤ 2000 m
Operating Environment
Operating Temp.
Operating Humidity
Operating Altitude